BDF 2021 National Congress - November

1 - All filmed, edited and fresh out of the oven... If you were present and require a reminder of this wonderful event it's here: /store
2 - If you could not attend and wish to view the fun on the day, it's here: /store

2021 - YOUR PURCHASE SECURITY - Starting with the BDF 2021 International Congress

In an attempt to stem the rising tide of bootleg illegal copies of CDs and DVD we are registering all our DVD sets using the hologram code on the front sleeve which has a unique number - If you purchase a video from 2021 onwards without a hologram number, you may not have a genuine version.

We can now identify the source of the purchase or the country of destination - This is a FREE service and shares no personal details

This might seem extreme and a complete pain to manage (which it is) but all of us here in the UK and beyond are getting fed up of having our hard-earned efforts copied by a bunch of foreign fraudsters who take everything for themselves. We hope you understand and support our actions



AUGUST 2021 - BDF CONGRESS 2021 - READY

Thank you to all who ordered on the day. If you didn't (and you wished you did or would like to order now) please visit the /

store








Archive News...........................................................




BDF International Congress - 2020
BAD NEWS It is with great sadness we announce the BDF International Congress has been cancelled. It has been rescheduled for the 29th / 30th May 2021
Up until this point the BDC have held their International Congress on ODD years (2007/9/11/13 etc) whilst the BDF/WDC have held their International Congress on EVEN years (2016/18/20 etc) but now it's all back to front.... As usual, the Congress will be filmed with orders taken on the day or by visiting :store

BDF National Congress - November 2019 - OUT NOW
The BDF National is now ready to order! Check out /store



BDC World Dancing Congress 2019 - OUT NOW!



The BDC 2019 World Dancing Congress provided a wealth of knowledge, skills and beautiful dance: all back in the refurbished Spanish Hall, Blackpool, UK

Starting the day with the effervescent Riccardo Cocchi and ending the second with Donnie Burns MBE; the two day congress was full of quality dance and a personal approach to the reason and passion behind dancing

There were many lectures of which the content may not even be fully appreciated for years to come; making this years' Congress an especially valuable resource and a reminder why recording such events need to be supported which remain the only record of UK dance history
Some lectures will never happen again..

** . Archive Congresses are here for all.... /store

Here are a few quotes from this years Congress:



- PASSIONATE - Slavik


"The simple things: when you're really in touch with your senses...see, touch, breath... when you sense,... you respect this"

- INSPIRATIONAL - Donnie Burns
"From your soul to your brain; from your feet to your frame"

- UNDERSTANDING - Leonid Pletvev:
Explaining:... "Philosophy: Love to Wisdom"

- SOUL - Victor Da Silva
"Art liberates you and it puts you into a dream; it puts you into a position in life that's timeless; going beyond and beyond.."

- HONESTY - Dorin Frecautanu
"A good artist is never afraid to fail"

Riccardo Cocchi & Yulia Zagoruychenko
Victor Da Silva & Hanna Karttunen
Andrea Ghigiarelli & Sara Andracchio
Dorin Frecautanu & Marina Sergeeva
Andy Liang
Leonid Pletnev
Sammy Stopford
Kateryna Spasitel
Hans Galke
Victor Fung & Anastasia Muravyova
Stefarno Di Fillipo & Dasha
Cher Rutherford
Christopher Hawkins
Arunas Bizokas & Katusha Demidova
Doman Krapez & Natascha Karabey
Slavik Kryklyvyy
Valerio Colantoni & Monica Nigro
and finally the legend that is...
Donnie Burns MBE

This 5-disk DVD set available in both formats for all countries on Earth and the running time is.... 9 hours and 4 minutes so put your feet up with a cup of tea, a few biscuits, turn the phone off and settle in for the day!



We deliver to most countries via Royal Mail. If your country is not listed or

you require a courier service, please contact us before ordering

Please check our FAQs page to make sure you order the correct viewing

format for your country







Dance News - Finally on Page 3 !
Thanks to Mr Jack Reavely (who many of you will know) I have an article in issue 2622 / 25th April about fun of filming Dance Congresses. It's a good read and thanks to John Leach (Editor) for publishing this interview. Subscribe for a digital version at: www.dance-news.co.uk or a good 'ol fashioned paper copy delivered to your door

BDF November National Congress 2018 - OUT NOW

Despite a nightmare journey travelling across the M62 to Blackpool we made it and successfully filmed the National Congress which is now available: /store
Another set of quality lectures and advice; all courtesy of the BDF - over two hours of entertaining and educational lectures


VIDEO PREVIEWS

We are pleased to announce ALL listed videos will soon have video previews and we've started with the Blackpool International Congresses; working back from 2018. You wouldn't buy a car without seeing it first so why buy a DVD without having an idea what's on it?! We hope you enjoy this added facility and, as always, please get in touch with any feedback: Contact Us

** Please bear with us whilst we get the best settings so videos don't do the Quickstep (that's Hop, Skip & Jump!)


1992 - History Re-Visited - A 26 Year-Old Gem

Many events happened in 1992; George H Bush and Boris Yeltzin declared the "Cold War" over, Sweden won the Ice Hockey World Championships, Nigel Mansell won his 26th F1 win in Brazil whilst back home on a sleepy Sunday in a dance studio in Peterborough, Dereck Brown filmed Mr Peter Eggleton for a dance training video
The finished video; lasting well over an hour, included 29 Waltz, Tango, Slow Foxtrot and Quickstep variations and was sent all around the world to those passionate about dance from a former six-times World Champion but; only available on VHS tape. As the years passed, video tape dropped from favour but the skill and the knowledge still remained; locked in the archives
A chance email request has resulted in the unearthing of this 26 year-old asset and www.dancefilming.com are proud to announce the original 1992 Peter Eggleton Ballroom Variations is now available on DVD in PAL and NTSC versions; re-edited and improved which also includes track-navigation; a feature never available on tape

Custodian of the Archives, Cameraman and Editor Mark Windsor-Hampton said "the knowledge these supreme dancers leave us cannot be underestimated. To witness a former World Champion offering techniques and advice many years after their original success is a treasure. We do our best to bring this footage back to life in the best condition possible to preserve the legacy of dance where the past is our future" /store



BDF 40th Anniversary Congress - Saturday 26th & Sunday 27th May 2018
Blackpool, UK

A week and a half ahead of schedule, it's now ready in PAL and NTSC playback formats
If you ordered direct at the BDF Congress, your order will have now been shipped
If you didn't order but would really like to, just go to /store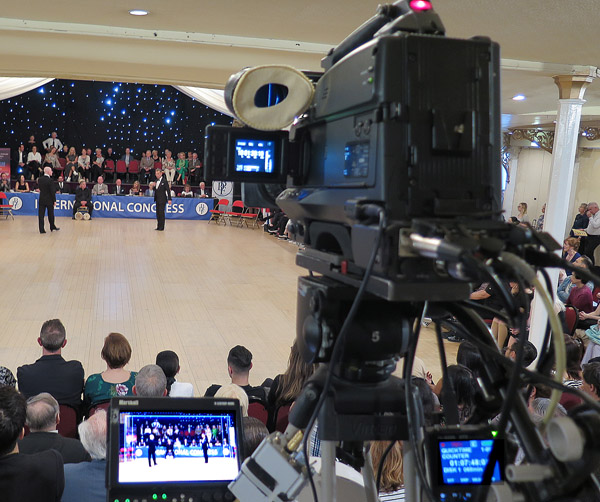 ** LONGEST DISTANCE TRAVELLED TO VISIT THE BDF INTERNATIONAL CONGRESS 2018 and BUY THE DVD *

First prize (so far) goes to a chap from New Zealand. As the crow flies it's 11556 miles but we reckon it's more than that .... (allowing for drift...and stopovers...)

If you have travelled further (and that doesn't include dropping off some presents to Grandma miles off course) let us know!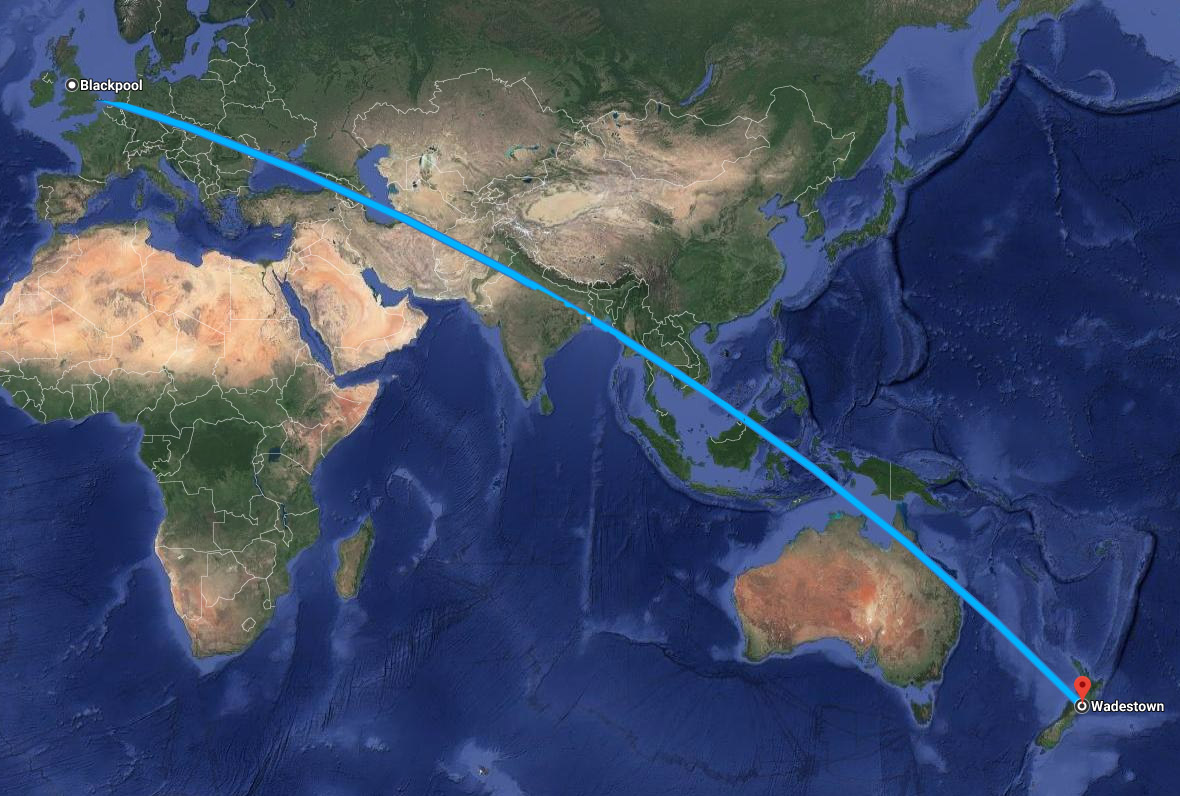 2017 - Before and After
...

The Empress Ballroom, Winter Gardens, Blackpool, UK
Such a wonderful room - this image was taken during filming of the IDTA Ballroom Nationals 2017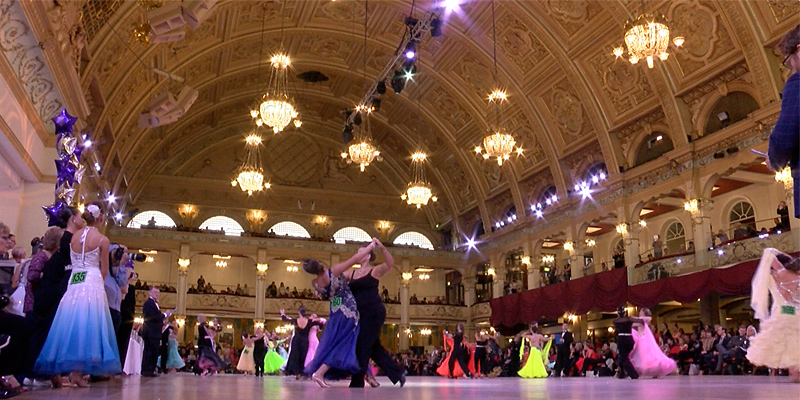 A few months later for the IDTA Rock 'n' Roll Nationals and here we are - quite a different view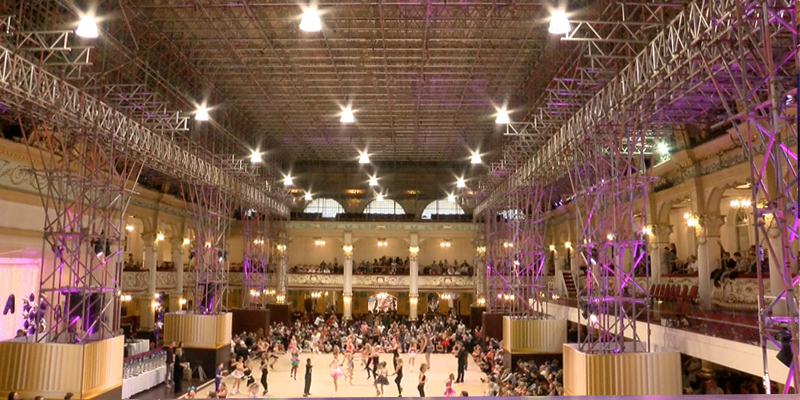 Full credit to the scaffolders - there's 50 tons of scaffolding there and it truly is a professional work of art. Hopefully we'll be back to normal in the 2018
and then maybe the Spanish Hall which is home to the BDC and BDF International World Congress will get a new roof - here's hoping...



BDF National Congress 2017 - RELEASED AND AVAILABLE IN-STORE

:store




* Alex Schindila & Jade Main - 'Inspired to be Better

* Graham Oswick - 'Shape Up'

* Mark & Olga Elsbury - 'Movement within Movement'

* Craig & Evgeniya Shaw - 'Eyes Wide Shut'

* Mark Lunn - 'K.I.S.S.'

* Christopher Hawkins & Joanne Bolton – Hawkins, 'Dynamic Artistry'

* Shirley Ballas - 'The Importance of Fundamentals in Rumba'

A great Friday-filming in Blackpool
Bit windy outside on the seafront but inside the Spanish Hall, the atmosphere was lovely and the lectures? - well-worth the

FREE ENTRY

; all compliments of the BDF
There were many great lecturers and the BDF were privileged to have Shirley Ballas who, the following night was judging just a short walk down the road at the Tower Ballroom for BBC's Strictly Come Dancing. Also there was the President of the BDC Mr Bryan Allen; his 9th year as a guest on the top table with a follow-up from his 2016 speech: Tempus Fugis. There were many more esteemed dancers and all can be seen on this 2-DVD set

Duration: 2x DVD set / 2 1/2 Hours / Format: PAL / £45
See :store for more details


If you attended and didn't order, don't panic - you can still order :-) :store

If you didn't attend but would like to have a DVD of all the lectures, you too can order it here: :store

LEN GOODMAN - Latin 3
A useful selection of variations very entertainingly explained and demonstrated by former British "Rising Star" Latin Champion, British Exhibition Champion and current Television Dance Celebrity. Cha Cha Cha - x6 / Rumba - x6 / Samba - x5 / Jive - x5 / Salsa - x2


See :store for more details

AUTHENTIC ROCK 'n' ROLL by Bill Oakes
Almost an hour of particularly energetic dance moves for Rock 'n' Roll dancers - just make sure you're fully warmed up and in tip-top physical condition! Once you've mastered these moves, you're sure to be the envy on the dance floor. It may have been recorded in 1983 but the material will test your acrobatics even today

See :store for more details





Robert & Barbara Grover - BALLROOM VARIATIONS for Weekly Classwork

Twenty Variations Covering Waltz, Tango, Slow Foxtrot and Quickstep demonstrated by Former World Ballroom Champions with detailed explanations given for both Man & Lady covering Leg Action, Footwork, CBM, CBMP, Rotation, Turning, Swing, Lady's Leg Rise, Posture, Poise, The Hold, Body Position plus Technique

See :store for more details




Stephen & Jennifer Hillier - Ballroom Techniques & Variations


Originally recorded in 1992 and remastered to DVD in 2017 with full navigation so you can find a clip without shuttling back and forward (as you used to do on tape) this video represents a valuable, efficient and timeless collection of variations for Foxtrot, Waltz, Tango and Quickstep

See

:

store

for more details




IDTA Southport Congress 2017

Following another very successful Congress by the International Dance Teachers' Association, this four DVD set is now available of all the Ballroom Lectures filmed in the Floral Hall, Southport; totalling over 5 hours. If you were there, this will be a good reminder of lectures and audience participation. If you weren't there, see what you missed!

See :store for more details

BDC Blackpool World Dancing Congress 2017

Held during the Blackpool Dance Festival Week in May 2017, this Congress, filmed in the Spanish Hall, showcases lectures from the very top dancers worldwide. Many are previous Champions many times over are some will soon be. Over 9 hours of quality lectures. Whilst the lighting in the room was dark, the lectures were illuminating

See :store for more details